Conversational analytics is here, and it is here to stay. In contrast to static dashboard tools, conversational analytics enables you to explore data in a completely new way. By enabling Large Language Models like GPT on company data, innovative tools like Tableau GPT, PowerBI Co-Pilot or Thoughtspot can generate data insights within seconds and display them in plain text or even generate a visualization.
This opens up new possibilities for improving existing data workflows or even adapting them to the possibilities of next generation AI. The magic is in the underlying technology: AI models like GPT have the remarkable capability to produce meaningful language, based on a prompt. This can be used to analyse data, create ad-hoc insights or even write custom reports based on a selected dataset.
Recently, all major players like Microsoft, Salesforce (Tableau) and Thoughtspot have announced to introduce GPT features into their products. Also startups are actively developing novel solutions to enable conversational analytics. For companies, this means two things: They will have to analyze the potential of conversational analytics within their organization and find the right tool to enable their data stakeholders to be more data-driven.
A few weeks ago, I was giving a presentation on conversational analytics at the Innoport in Reutlingen. The following is an overview on the most relevant tools, what we currently know about them and the opportunity for startups in the conversational BI space.
Microsoft, Salesforce (Tableau) and ThoughtSpot are promising functional BI assistants
There were several announcements recently about the potential features and use-cases for GPT powered analytics tools. I will briefly go over the most relevant tools, decribe the product promises and link the relevant sources.
1. Microsoft: PowerBI Co-Pilot
Microsoft´s PowerBI is still one of the most used business intelligence and visualization products in the field. With Mircrosoft Fabric, the company introduced their end-to-end AI ready analytics platform. The suite includes for example Azure Data Factory, Azure Synaps Analytics and Power BI [1]. The introduction of CoPilot in Microsoft Power BI is the most relevant announcement for conversational analytics [2].
AI features
CoPilot for PowerBI will empower users to create reports and dashboards through a conversational interface. By describing what you want to see in a dashboard or report, PowerBI will create the setup for a dashboard by adding "building blocks" which will provide the usual look and feel of a Microsoft dashboard.
By providing a chat interface on the dashboard, CoPilot will enable users to dig deeper into the visualizations on the dashboard by asking data questions in natural language. This can help users identify key influences and outlier in the underlying data-set and make forecasts. PowerBI will furthermore support the user by suggesting sample querys which can support the exploration journey.
An integration into MS Teams will help the adoption, as users will be able to consume data in the Teams chat environment. Beyond that, Microsoft will provide a code editor which will provide data engineers with a Copilot for generating and editing SQL querys.
Availability
PowerBI Copilot is currently in private preview. The public roll-out is expected later in 2023.
Pricing
PowerBI CoPilot, aswell as the complete Microsoft Fabric suite, will be included in the PowerBI Premium plan. Power BI premium customers can simply "turn on" Fabric in the admin panel. Power BI Pro customers will be able to use the new functionalities through capacity trials which is essentially a pay-as-you-go plan.
2. Salesforce: Tableau GPT and Tableau Pulse
From the company that has been acquired by Salesforce in 2019 comes a product called Pulse. Tableau Pulse is powered by Tableau GPT and it might be relevant to look at the difference of these two just briefly. Tableau GPT is supposed to be the underlying technology which will power conversational AI features across the Tableau product range. During the 2023 Tableau Conference, Tableau GPT was shown enabling features e.g. in Tableau Prep and Tableau Embeddings [3].
AI features
Tableau Pulse is a newly deveoped interface that changes the way data stakeholders consume and interact with data in Tableau. It is set up as a landingpage, showing the most relevant metrics for the respective data-stakeholders. These metrics are visualized as a "Pulse", which is the development of a selected data-point over time [4],[5]. Setting up these metrics will likely require a certain amount of data literacy as the user needs to find and select the correct tables through a regular (form based) interface.
Once it is set up, Pulse will enable the user to use a chat interface to ask questions about the defined data points. The user will likely be able to explore the different metrics and have the ability to use suggested querys. This helps the exploration journey.
In the demo, Tableau shows that the user will be able to auto-generate text insights based on specific visualizations so they can be embedded in reports. This means a visualization can be turned into writing with the click of a button. Pulse will furthermore also be usable within Slack. This enables users to share specific "Pulse" visualizations and start the exploration journey in their native conversational environment.
Availability
Tableau Pulse is currently still in development and according to announcements by Tableau, will be available by the end of 2023. Previously, the start of the Beta version was announced for Q3 2024.
Pricing
Details about pricing are currently not available. However, it is likely that the usage of Tableau GPT and Tableau Pulse will be somehow connected to the payment plans offered by Salesforce (similar as the licenses for Tableau Prep Builder or Tableau Desktop).
3. ThoughtSpot: Sage
The company has been known for building software that supports a "google like" data search. Adding GPT features to their analytics cloud seems like a clear next step and should enable natural language querys. So far, to use the ThoughSpot analytics tool, users required a specific semantic language to use their search. This is hinders adoption by technical and non-technical users alike. ThoughtSpot recently introduced a solution called Sage, which should enable a more open search experience [6].
AI features
Sage is enabled by what ThoughtSpot calls SpotIQ [7]. SpotIQ is ThoughtSpot´s search engine. When a user searches for an insight on Sage, the question is pre-processed using the SearchData Model. GPT is then used to create a SQL which is converted in a way that it can be handled by ThoughtSpot´s SpotIQ Query engine. GPT is therefore (only) augmenting the search capabilities of ThoughtSpot [8]. This enables the following functionalities.
ThoughtSpot let´s users search for insights in natural language similar to how PowerBI and Tableau are doing it based on existing visualizations. Users can also unlock more insights by asking free questions and generating an ad-hoc visualization from it. The chat interface also suggests sample querys, they seem however not to be based on previous questions and therefore don´t support the data exploration. What is very interesting, is that ThoughtSpot is offering AI-assisted data modelling. This enables admins so select specific tables and columns for Sage to access. It also enables the user to add meta data (e.g. synonyms for common business terms) which can improve the quality of the chat.
Availability
ThoughtSpot is currently offering a 30 day free trial.
Pricing
ThoughtSpot is currently offering a 30 day free trial. However, as Sage is making use of the ThoughtSpot analytics stack, it will likely require a customer to sign-up for a pro or enterprise plan to enable GPT on the ThoughtSpot instance.
The startup opportunity
It is interesting to see how fast big companies like Microsoft and Salesforce are moving to integrate conversational analytics into their products. However, the success of these solutions in the long run will come down to usability and adoption.
For the big solutions like PowerBI and Tableau there are two main factors that drive the integration of GPT into the product. Firstly, the market leaders need to integrate GPT to stay on par with the competition in the current AI race. Secondly, conversational AI needs to increase the consumption of the core product which is the analytics suite. This becomes especially visible when looking at the design of the main AI features described above.
Despite all the advantages, there are many things the big analytics software providers are lacking. This opens up many opportunities for startups like DOT (https://www.getdot.ai/) who can be more flexible in the way that they are using the capabilities of GPT.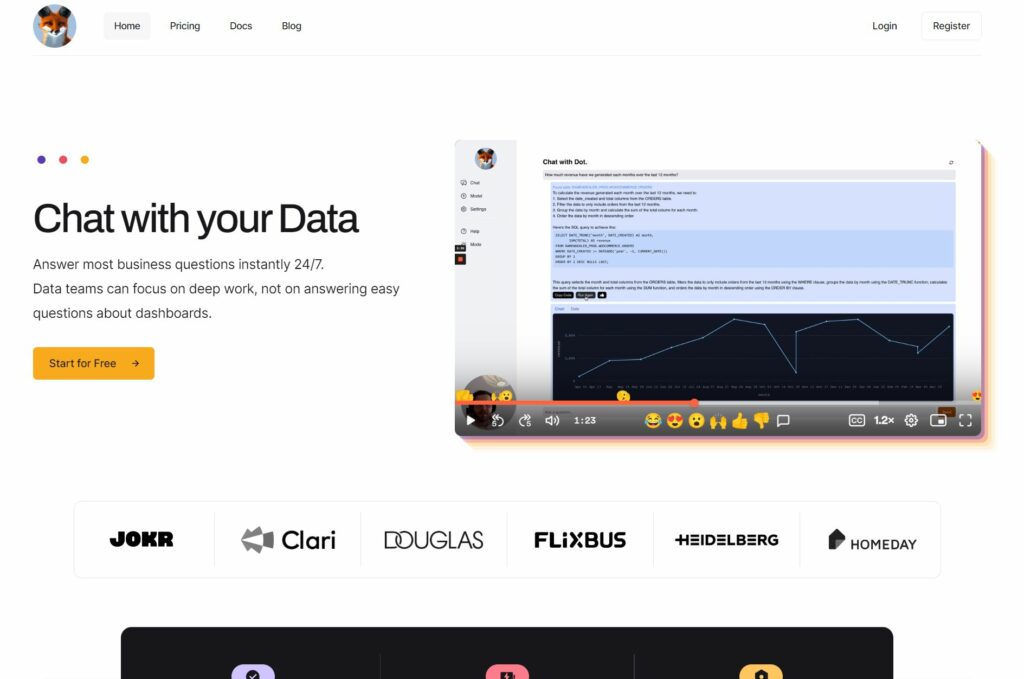 The following is a list of key success factors that startups can leverage over established players to bring more value to clients in search for the right conversational analytics solution:
Microsoft and Co. will likely not keep up the pace as their solutions are simply to big and complex. This gives startups the opportunity to adapt faster to emerging needs and enable the right features.
The big solutions are introducing GPT as a feature. This comes with a lack of flexibility, as the capabilities of powerful large language models can only be used within the boundaries of the analytics suite in question. Startups like DOT can help customers to enable the analytics workflow that they really need.
Conversational AI features in Tableau and PowerBI are hidden behind a paywall. Many users will not be able to access these features as they will have to upgrade their plan or license. Startups can offer leaner products and offer pricing packages which enable more users to use conversational analytics tools.
The usage and usability of conversational analytics will largly depend on the quality of the answers the users receive. Currently there is one major way of improving the performance of GPT on company data: Increasing the relevant context. Startup like DOT are leveraging integrations to e.g. Looker which provides a semantic layer. By making it easier to increase the relevant context space, startups can improve the performance of their tools heavily.
Startups have the opportunity to build agnostic solutions which enable companies with a heterogeneous analytics landscape to use conversational BI effectively. If you are using Tableau AND PowerBI, it might be relevant to consider an agnostic tool which provides the right integrations.
One of the most relevant factors for new software solutions is the time to set them up. Startups can provide solutions which are easy to set-up and test. The timeframe until a solution provides value to the user will be a major factor influencing future adoption.
Ultimatly, each company has to find the right solution for their challenges. It will be interesting to see, how good the big corporations can deliver on their promises. Let me know if you have any questions or comments via [email protected].
Relevant sources