Instant Ramen are a hype food that gains more and more market share in Europe. The noodles are easy to prepare and perfect for lunch or inbetween. With the Ramenbox, we are developing a food-service for companies and co-working spaces, that provides a reasonably priced food alternative for office workers whenever they need it. 24 hours a day, 7 days a week.
Let´s be honest: Eating at your favorite restaurant or ordering a pizza is not always an option. This is especially true if your working late or if you want to keep your break short. Yet, there is rarely an alternative for a hot and easily prepared meal at the office. This is what the Ramenbox wants to change.
The Box holds four replaceable containers of Instant Noodles that are available whenever you need them. It is installed for free if you have an office with 15 or more employees and it uses a proprietary payment system that is super easy to use. Customers just have to scan the QR-code on the box or type a short link into their browser. 2-clicks and your purchase has been recorded. At the end of the month you receive a mail with a summary of your purchases and you can pay using your favorite providers like PayPal, Amazon Pay or Google Pay.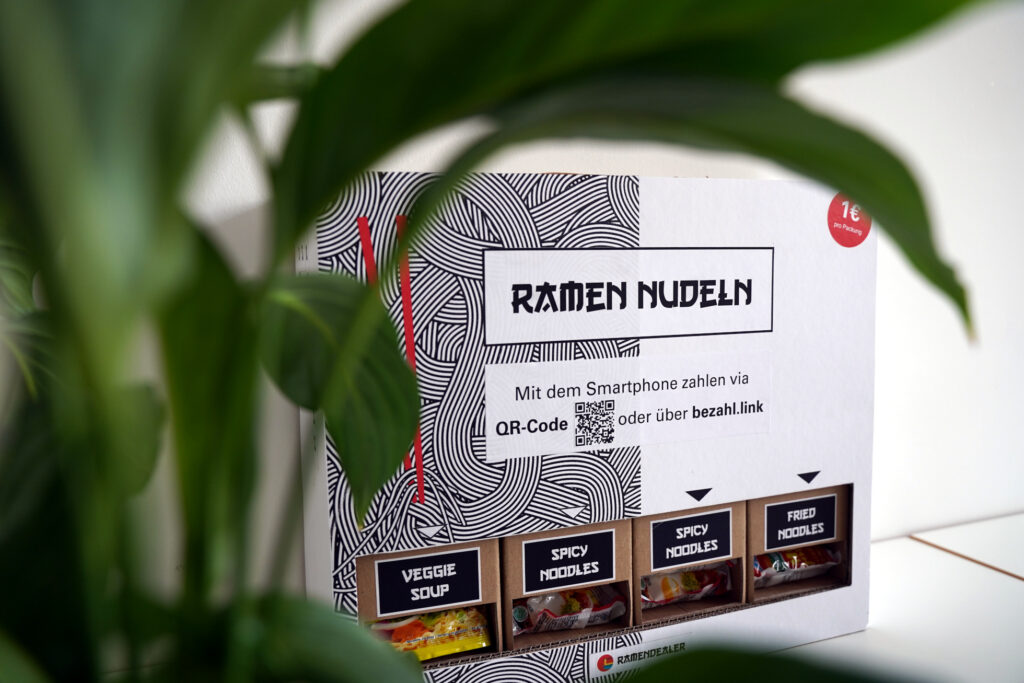 Currently the Ramenbox is tested in three Co-Working Spaces and it shows a good user acceptance and retention. The Ramenbox is part of our onlineshop "Ramen-Dealer.de" and the realization of the food service uses the same backend processes. Further information and pictures of the Ramenbox can be found on the landingpage Ramenbox.de.
If you want to give us feedback or if you´re interested to have a Ramenbox at your office or Co-Working Space, please reach out to me on Social-Media or via [email protected].