In today's data-driven world, making decisions based on gut feelings is no longer enough. Companies must rely on data insights to drive strategies forward. This poses many challenges connected to people, processes and the technical infrastructure. Having the right tools and enabling your employees to use them correctly is one of the key success factors to enable your organization to be more data driven.
The challenges with current BI solutions
Business intelligence solutions play a central role in data-driven organizations. They are the visualization layer which make data visible to all relevant stakeholders in the company. For ages the number one tool for data discovery were dashboards, with solutions like Tableau and PowerBI being at the forefront of data visability. Dashboards make it easy to have all relevant metrics in one place, but they also come with a couple of downsides:
Companies end up with 100´s of dashboards which are hard to maintain and oversee. Finding and trusting the "right dashboard" get´s more and more difficult.
The questions your business users have can often not be answered with static dashboards alone. Additionally to maintaining these dashboards, data teams spend their valuable time answering ad-hoc questions from business stakeholders on data.
Dashboard solutions do not solve the biggest underlying problem of data-driven organizations – data literacy. The existing BI interfaces require data knowledge and most often specific query languages.
Conversational analytics is key
To be truly data driven and make decisions faster (AND at scale), companies have to overcome these underlying problems. As static dashboards are not the cure, companies are looking more and more into AI technology like GPT to support their data stakeholders.
This is why we developed DOT! A revolutionary data analytics and visualization tool which enables everyone in your organization to get intuitive insights from data. With DOT you can simply ask a question about data using an intuitive chat interfaces. Within seconds you get an data insight back. And a visualization. And a SQL!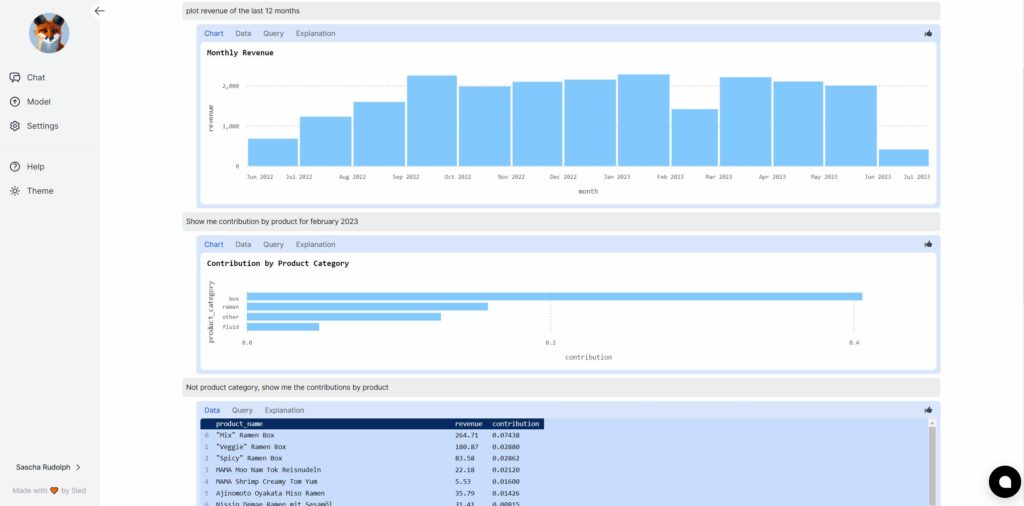 To do exactly that, DOT can be connected easily to all SQL based data sources. Therefore, we offer one-click integrations for all common data warehouses like Snowflake, BigQuery, Redshift, Postgres, Azure or SAP BW. Adopting DOT is also really easy. You can integrate the chat bot into Slack and Microsoft Teams, so that users can easily get data insights by using their existing chat environments. This makes adoption easier and offers a great usability.
To enable sales or marketing teams on data creates big opportunities for data driven organizations. It significantly reduces decision times and takes away unnecessary overhead from the data team. So they can focus on more crucial tasks connected to the technology infrastructure of your company.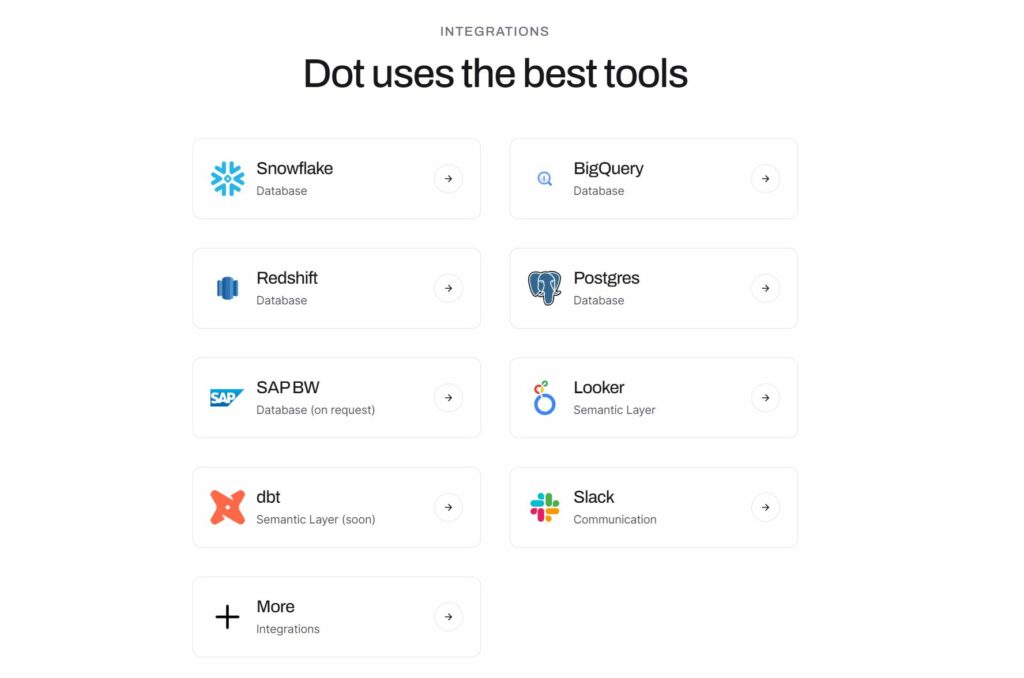 Try it out for free
You can try out DOT for free via https://www.getdot.ai/. Getting access to DOT takes just a few seconds. You can either test out the data bot on our E-Commerce demo data or connect your own data via our inbuilt connectors. We make sure that your data is safe in our SOC2 ready environment! 
If you are interested and want a shortcut, you can book a guided tour. I´m happy to show you the main features of our conversational analytics tool in a 30-minute Teams session. Just book a slot here https://calendly.com/sascha-rudolph-at-sled/intro-to-dot-30-min.